Mooting
Edward Bramley has established a prestigious mooting reputation – we have recently been crowned the 'Best at mooting activities' in the UK by Law Careers.Net Student Law Society Awards!
Our Mooting Secretaries for this year are Cheryl Lee and Amelia Fragola-Hunt. They are both fantastic Mooters here to make sure you get involved and succeed at advocacy! If you have any questions, feel free to drop them an email.
Mooting began this year with an introductory workshop and a Give it a Go session, where many students attended giving them the opportunity to ask questions and practice their skills.  
We had our first internal competition of the year in October, the University of Sheffield Novice Moot. The Novice Moot began with 40 students which had to be narrowed down to four successful students to take part in the Final. We had two weeks of mooting and lot's of fun. Congratulations to Shulai Mao and Katherine Wilson the winners, who received prizes sponsored by Tim Maddison at BPP Law School, Leeds.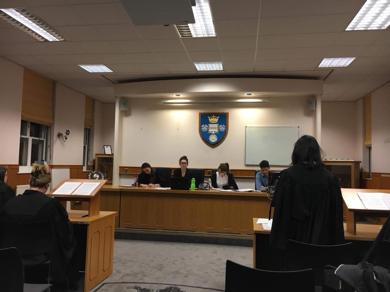 Our most recent competition took us to the University of Nottingham to take part in a Varsity moot. Each Universities competitors were very good, both enjoying their first experience of being judged by Mr Stephen Williams. Despite being defeated by the University of Nottingham's team, the level of talent on display was a credit to the Edward Bramley Law Society and the University of Sheffield. All of us here at the Edward Bramley Law Society are incredibly proud of our mooters and we wish them every success in their future endeavours.
We are looking at taking part in the UK Sports Law Competition, as our next external competition and have the University of Sheffield Internal Moot & Plea and Mitigation Competition coming up in the next semester too. With many more opportunities for our keen mooters to get involved in.